O evaporador de filme ascendente Alfa Laval AlfaVap concentra líquidos de incrustação baixa a média, bem como líquidos altamente viscosos em uma ampla gama de aplicações e indústrias. Robusto, versátil e econômico, é eficiente em termos de energia, fácil de operar e manter, exigindo 50% a 70% menos altura do que os convencionais evaporadores casco e tubo. Seu tamanho compacto facilita a instalação nas unidades existentes.
Mais compacto, inicializações mais rápidas, maior eficiência térmica e melhor qualidade do produto do que os evaporadores casco e tubo
Evaporador versátil e econômico para concentração de vários produtos em uma ampla gama de indústrias
Melhor qualidade do produto devido aos tempos de inicialização e desligamento rápidos, alta eficiência de transferência de calor e tempo de residência curto: perfeito para sensibilidade ao calor
Alta eficiência energética devido ao menor uso de vapor com vários efeitos e unidades de recompressão térmica e/ou mecânica de vapor
Mais tempo de atividade, menos manutenção com o mínimo de incrustação devido ao efeito de autolimpeza criado com alta turbulência e alta taxa de cisalhamento
Pegada compacta, que economiza espaço e é 50% a 70% menor em altura do que os evaporadores casco e tubo, reduzindo o tempo e os custos de instalação e serviço
Maximize o tempo de atividade com o evaporador de placa de filme ascendente Alfa Laval AlfaVap. Esse evaporador de filme escalável de baixo custo concentra líquidos de processo que contêm sólidos dissolvidos, manuseando com facilidade concentrações de meio e viscosidades mais altas do que evaporadores tubulares. 
Instale o evaporador de filme ascendente AlfaVap como um efeito de evaporação completo ou uma unidade de reforço econômica para aumentar a capacidade do evaporador existente usando as estruturas e os controles existentes. Sua baixa altura facilita a instalação em um único piso com poucas ou nenhuma bomba. Isso reduz os custos de instalação. 
As aplicações típicas de um evaporador de filme ascendente incluem refinaria de açúcar, adoçante, proteína animal e vegetal, bioetanol e funções de evaporação cáustica. 
Reduza seus requisitos de engenharia com a experiência da Alfa Laval, desenvolvimento e suporte de aplicação de processo global e uma gama completa de soluções de evaporador para uma ampla seleção de aplicações e capacidades. Nossos projetos de sistemas completos incluem recipientes, bombas, tubulações, dutos, instrumentos e engenharia. 
O AlfaVap se encaixa em nossa fábrica de farinha de atum existente e concentra água de 12% a 40%. Um evaporador de filme descendente convencional teria exigido um prédio totalmente novo. - Sr. Cobas, diretor executivo da Conresa, Espanha 
Em comparação com trocadores de calor casco e tubo, os evaporadores AlfaVap são mais eficientes. A evaporação ocorre usando menos vapor por razões econômicas. Cortamos nossos custos de energia em 10%, enquanto a produção efetiva da empresa aumentou. - Peter Simpson, gerente técnico da Chelsea Sugar Company Ltd., Nova Zelândia 
Food system services
Alfa Laval Food system services help extend the performance of your food systems by maximizing the performance of your processes. This enables you to:
Continually improve your operations to maintain competitive advantage
Focus on uptime, optimization and availability
Maximize return on investment throughout the life cycle of your food systems

Take advantage of the unique plate geometry used on the plates of Alfa Laval AlfaVap rising film plate evaporation system. Proven effective since first introduced to the market in the 1990s, the unique semi-welded plate with thick gaskets resulted from close cooperation with sugar manufacturers to improve heat transfer efficiency when concentrating high-viscosity, fouling-prone process liquids.
Food and beverage
Fruit juices and purées
Sugars, syrups (corn), honey and confectioneries
Ethanol stillage
Meat and vegetable broths
Gelatine and collagen peptides
Fermentation products
Coffee and tea
Vegetable protein
Milk and whey protein
Non-dairy plant drinks (oat, nut, etc.)
Beer de-alcoholization
Herbal extracts
Starch and sweeteners
Sugars (beet, cane, potato, etc.)
Glucose, dextrose, fructose, maltose
Proteins
Gelatine
Stick water
Meat and fish broths
Insect protein slurries
Plant-based proteins
Chemicals and wastewater
Caustic (NaOH, KOH, LiOH)
Zero liquid discharge
Inorganic salts
Biofuels
Life science/industrial fermentation
Fermentation broths
Lysine
Lactic acids
Citric acids
Amino acids
Yeast extract



---
Pilot testing and rentals of evaporation systems
Try before you buy. Get expertise and advice from Alfa Laval engineers for the optimum configuration for your evaporation system, including:
Detailed water analysis and characterization 

Process and water chemistry modelling 

Benchmark and/or pilot testing for moderate- to high-risk applications 

Detailed material compatibility evaluation 

Sample analysis

Pilot tests
Visit the Alfa Laval Materials Technology & Chemistry Lab and Test Centre in Lund, Sweden, the Alfa Laval Innovation and Test Centre in Nakskov, Denmark, or rent one of our mobile pilot evaporation systems to conduct onsite trials at your plant.
---
Engineered system
A complete AlfaVap climbing film evaporation system includes plate evaporators, preheaters, cyclone separator vessels, thermal and/or mechanical vapour recompression units, pumps, instruments, valves, ducting and piping and a local programmable logic controller (PLC) and control panel. The system can be pre-assembled in Alfa Laval's workshop, which reduces installation time on site to one to three weeks.
How the AlfaVap rising film evaporator works
The Alfa Laval AlfaVap is a rising thin film plate evaporator. Product flows along the heating channels and evaporates, releasing a portion of its water content. Contact time of the product with the heating surface is limited due to the turbulence and high fluid velocity. The vapour/liquid mixture leaves the plate heat exchangers and enters a vapour separator, which separates the vapour phase and directs it to the upper outlet. The liquid phase collects at the bottom of the separator and is transferred through an outlet for subsequent processing in the next effect or to the final extraction point.
Compared to a traditional shell-and-tube evaporation system, the AlfaFlash and AlfaVap system requires substantially less installation height and can be installed without complex civil work on site.
Outstanding heat transfer coefficient for the plate evaporator
The Alfa Laval evaporation solutions provide much higher thermal efficiency than traditional shell-and-tube evaporators. With up to three times the heat transfer efficiency versus other technologies, substantial savings can be made, especially at higher concentrations.
---
Heat sources for evaporation systems
Configuration Options
Alfa Laval evaporation systems can use heat from different sources such as mechanical and thermal compression as well as waste vapours from dryers.
Multiple-effect system 
Saves energy by reusing steam

Simple and flexible
Mechanical vapour recompression, MVR 
High investment

Low (or no) steam consumption

Uses electricity
Thermal vapour  recompression, TVR 
Low cost with reduced steam consumption

Simple, no moving parts
Waste heat from dryers 
Low energy cost

Relatively high investment
Talvez você também se interesse por…
Evaporation solutions 3D/VR
Take a 360-degree tour of our evaporation systems in close-up. View the 3D/VR models of evaporation systems by simply clicking on one of the modules.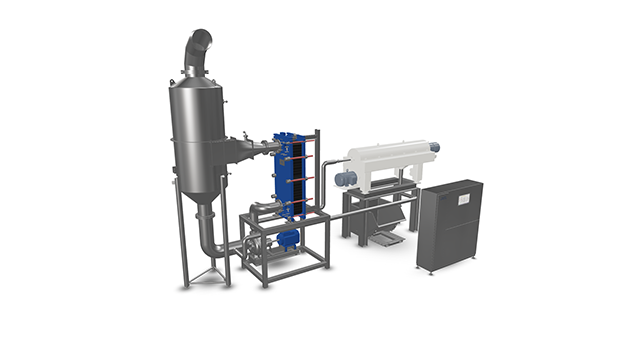 Explore our range of evaporators
Alfa Laval offers a wide range of evaporation systems from plate evaporators, and rising film evaporators to tubular evaporators and falling film evaporators. Find out what would work for your evaporation needs.