Carlsberg: Faster, more consistent beer fermentation with Iso-Mix
The need to continually improve all aspects of its brewing process without compromising its famous quality lead Carlsberg's Fredericia brewery in Denmark to look at the potential of Alfa Laval's Iso-Mix rotary mixing technology for beer fermentation.
DATA
2023-11-28
The Danish brewery became one of the first breweries in the world to install the Iso-Mix system including an external heat exchanger on four surplus 5,000 hl cold storage tanks converting them to fermentation vessels.
Faster fermentation and cooling plus energy savings
For Carlsberg, the introduction of the Iso-Mix rotary jet mixing technology has, depending on the type of beer being brewed, cut down the fermentation time to diacetyl acceptance by 1-2 days. In addition, the cooling process is now reduced from 24 to 36 hours to only 12 hours. Peter Rasmussen says that the Iso-Mix technology combined with the heat exchangers has led to "energy and time savings" and the fermentation is now "a more consistent process."
Quality secured
"We have the capability to secure quality better than that of old fashioned beer making," Peter Rasmussen adds. "Because the Iso-Mix system employs an external plate heat exchanger, we now have more precise control of the fermenting process, and the temperature can be more accurately controlled." He also confirms that there is greater homogeneity in the suspension of yeast in the wort and that no additional stress on the yeast has been noted.
Less stabilizer
As an added benefit, Carlsberg has also demonstrated that the Iso-Mix system can be used to add stabilizing ingredients in the unitanks, thereby providing more contact time than if dosed before the filter. This has enabled Carlsberg to cut down on stabilizer usage.
Flexibility and ease of installation
Furthermore, the system has given Carlsberg some extra flexibility by allowing the tanks to be used for production of small batches, something that was not possible previously.
Customer's voice
It is an uncomplicated system and very reliable.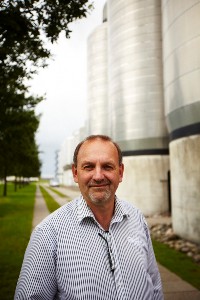 Peter Rasmussen
Production Manager, Carlsberg Fredericia, Denmark