Industrial refrigeration
Desde câmaras de resfriamento e congelamento em instalações industriais até a refrigeração de pistas de patinação no gelo, a Alfa Laval tem as soluções mais recentes e eficientes. Para a indústria alimentícia, oferecemos resfriadores de ar eficientes que podem ser combinados com trocadores de calor a placas. As aplicações vão desde a refrigeração em matadouros e áreas de processamento de peixes e carnes até o controle climático de salas de armazenagem para alimentos frescos.
Produtos relacionados
Serviços relacionados
Tudo
Trocadores de calor a ar com serpentinas aletadas
Trocadores de calor a placa
Trocadores de calor tubular
Uma solução para cada aplicação
Para o armazenamento de produtos agrícolas – legumes, batatas e frutas – os resfriadores de ar da Alfa Laval oferecem uma relação de capacidade / vazão de ar perfeitamente equilibrada e um clima ótimo para todos os tipos de produto. Por exemplo, os resfriadores de amadurecimento de bananas são usados para otimizar todas as fases do sensível processo de amadurecimento.
Na horticultura moderna, as instalações de cultivo de flores, por exemplo, usam trocadores de calor de ar da Alfa Laval para refrigerar e aquecer o ar dentro das estufas. Esses sistemas aumentam tanto a quantidade quanto a qualidade da produção – enquanto consomem menos energia e reduzem os custos operacionais.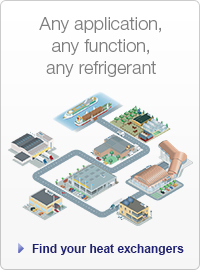 Alfa Laval offers reliable heat exchangers that deliver energy-efficient performance, whatever the application.Explore our applications.
Solicitar um orçamento para Refrigeração Industrial