Biotecnologia
A produção de medicamentos à base de proteínas complexas é uma área muito importante e de rápido crescimento para a indústria biofarmacêutica. Fabricação de vacinas virais, anticorpos monoclonais, glicoproteínas, drogas terapêuticas e outras, requer sistemas construídos que sejam delicados, mas eficiente fermentação e purificação. Uma produção bem sucedida requer equipamento sanitários que trabalhem as células adequadamente, eliminem o risco de contaminação e maximizem o rendimento.
Aplicações relacionadas
Produtos relacionados
Serviços relacionados
Tudo
Bombas
Centrífugas Separadoras
Equipamento para limpeza de tanque
Equipamento para tanque
Equipamentos de mistura
Fittings
In-line valves
Instrumentação
Membranas
Seat valves
Soluções para cervejaria
Soluções térmicas
Trocadores de calor a placa
Trocadores de calor de superficie raspada
Trocadores de calor tubular
Tubes
Válvulas de Controle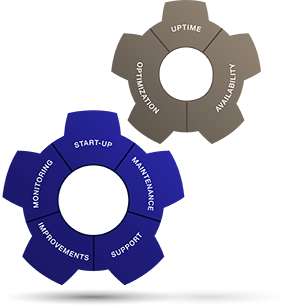 Our global service network has dedicated specialists, knowledgeable about your industry. We are here to support you with parts and expertise, wherever and whenever you need them.
The Alfa Laval 360° Service Portfolio covers all your needs throughout the life cycle of your equipment — from start-up, maintenance, support and improvements to monitoring services — for maximum uptime, availability and optimization.
By minimizing your total cost of ownership, we help you stay ahead of the competition.
Learn more about our service offer
---
A favor da Biotecnologia
As empresas de biotecnologia enfrentam desafios com os regulamentos e exigências, que incluem a inovação e maximização de seus rendimentos. A Alfa Laval, com a sua competência e conhecimento técnico, oferece equipamentos sanitários com o melhor custo x benefício e com mínimos riscos de contaminação. Esses equipamentos podem ser facilmente adaptados a escala piloto e escala comercial de produção. Com esses equipamentos é possível garantir produção contínua, rentável e segura e contribuir para o aumento do rendimento da produção.
Why choose Alfa Laval?
Complete range of process equipment for gentle treatment that easily scales up from pilot units to full-scale production plants
Hygienic and reliable equipment for cGMP-compliant production backed by engineering experience, application knowledge, customized installation, full validation support and comprehensive documentation
Fully contained, easy to Clean-in-Place and easy-to-sterilize equipment for hygienic cell culture processes
Solicitar um orçamento para Biotecnologia